This store requires javascript to be enabled for some features to work correctly.
Welcome to the exciting launch of the Loubiblu Subscription Box!
A craft box especially for busy parents who long for hassle-free crafting experiences with their kids.
Say goodbye to the stress of planning and preparation, with the Loubiblu bi-monthly craft subscription box delivered right to your door!
Discover the joy of creativity without the fuss, and join in on hassle-free crafting moments with your little ones.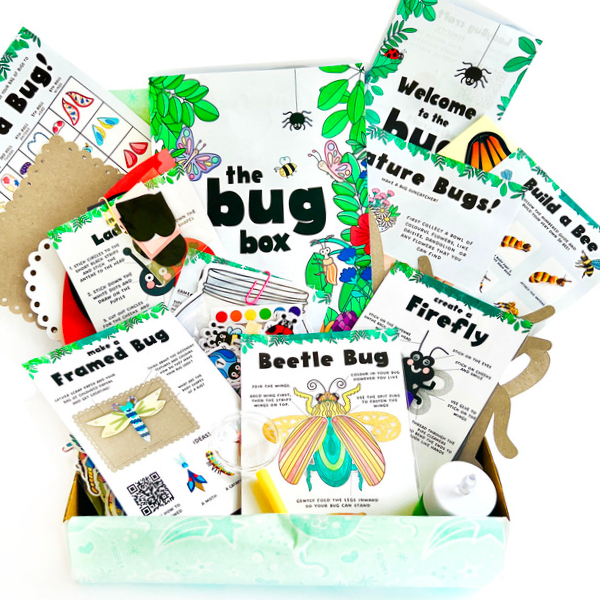 We begin the kids craft subscription box with...
THE BUG BOX!
Get ready to embark on a bug-filled adventure with Bug Box!
While many of us adults may feel a tinge of disgust of various bugs, kids' curiosity for insects often outweighs any squeamishness.
Combining the fascination with bugs and the importance of hands-on learning and creativity, the Bug Box is here to bring the captivating world of bugs straight to your doorstep.
Designed for craft-loving kids aged 4 to 8 and parents who appreciate simplicity, this extraordinary craft subscription box merges fun, imagination, and education into one extraordinary experience. So, let's immerse ourselves in the enchanting realm of bugs together and ignite the curiosity of young minds!
Unlocking the Wonders of Bugs:
The Bug Box aims to teach children about bugs in a fun and creative way. But it's not just about crafting; it's about sparking curiosity, nurturing cognitive skills, and promoting scientific understanding.
By engaging with 'bugs' through hands-on activities, kids unknowingly enhance their hand-eye coordination, spatial awareness, and fine motor skills. As they learn the names of bugs and explore their characteristics, they lay the foundation for scientific classification.
A theme for the month....
Beyond Crafts:
The Bug Box isn't limited to the crafts inside the box; it extends into a theme for the month that parents can explore with their children.
.
Imagine taking a day trip to different environments where bugs thrive, maybe visit the mountains, where you might encounter colourful butterflies fluttering around, or the riverside, where dragonflies dance above the water's surface.
.
It's an opportunity for families to bond, and open up new conversations.
Have a movie night, and watch bug-themed movies like "A Bug's Life" and "Ants," and engage in fascinating conversations about insect habitats and behaviours.
.
You can even carry the bug-themed fun beyond crafting by incorporating it into healthy snacks! Encourage your kids to choose ingredients and create edible worms, caterpillars, spiders, and more.
By exploring unfamiliar foods in imaginative ways, you can not only continue the theme but also introduce new flavours and textures to expand their culinary horizons.
.
Let their creativity soar as they whip up these delightful and nutritious bug-inspired treats, making snack time an adventure in itself!
Here is a fun way to get your kids involved from WomensDay
Learning Adventures Inside the Box:
Here's a peek inside some of what makes up the Loubiblu Subscription Box - with the Bug Box:
Family games
Bug Games...
Foster counting skills, shape recognition, and creativity with the "Build a Bug" and "Bugs in a Jar" games. These interactive activities engage children in fun learning while sharpening their cognitive abilities.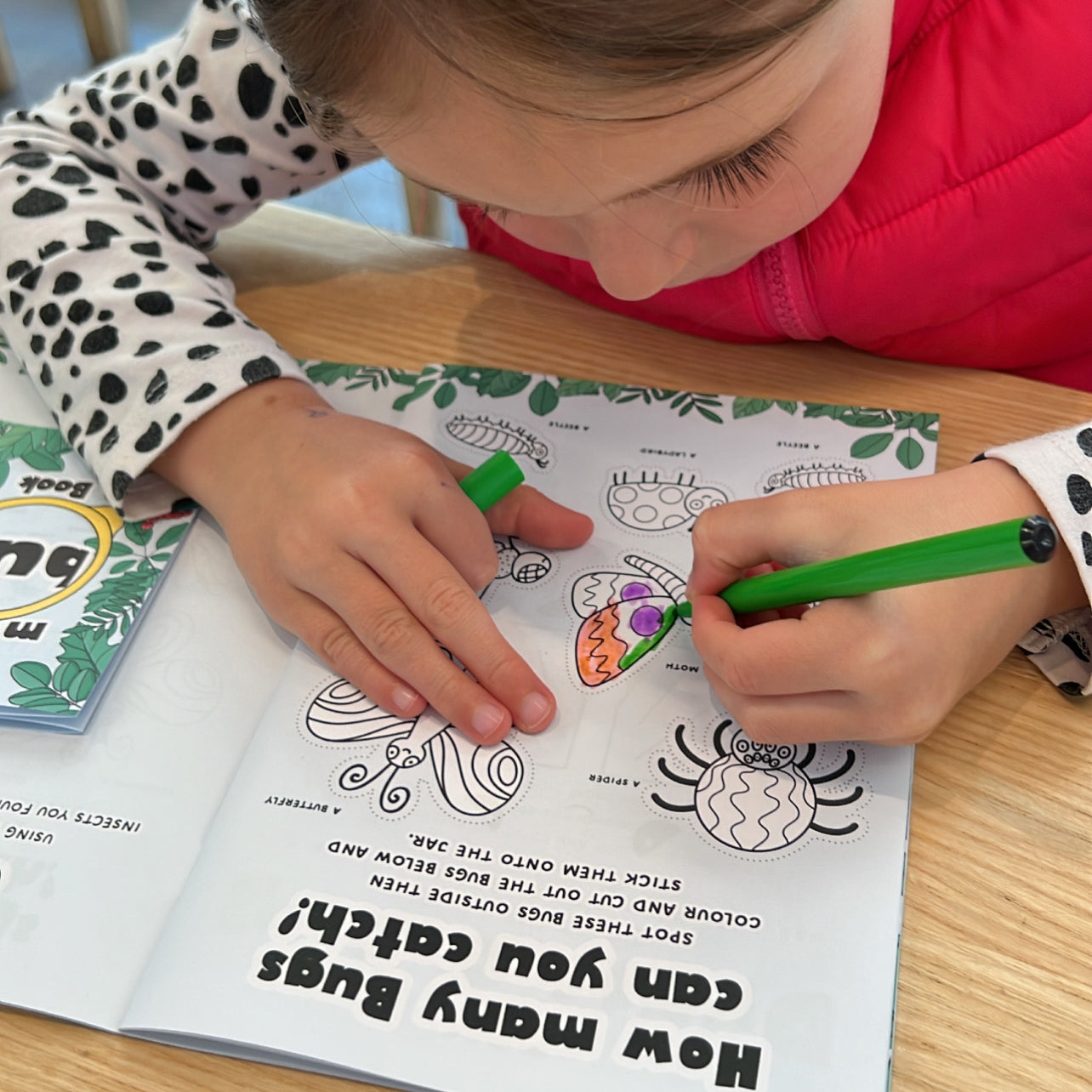 Discover the
Activity Booklet...
Packed with mini-games, quizzes, and colouring pages, the booklet provides on-the-go entertainment and further exploration of bug-related topics.
Including a fun bug adventure,  get your little explorers excited about nature by encouraging them to discover bugs in their local community. They can draw their findings, and use the magnifying glass to examine bug body parts, and begin building their understanding of biodiversity and classification.
With original artwork and exceptional quality...
The Loubiblu sub box stands apart with its captivating original artwork and meticulous curation. Each box is thoughtfully crafted to provide a one-of-a-kind and unforgettable experience for your little ones. 
Crafting as a Holistic Learning Experience:
The Loubiblu subscription is more than just a craft box; it's a holistic way to teach kids about the world. Every craft and activity has been carefully designed to stimulate curiosity, ignite imagination, and promote hands-on learning.
With the Loubiblu kids craft subscription, children embark on an educational adventure filled with wonder and excitement whilst parents enjoy the ease of saying yes to crafting knowing that everything they need is right there in the box!
.