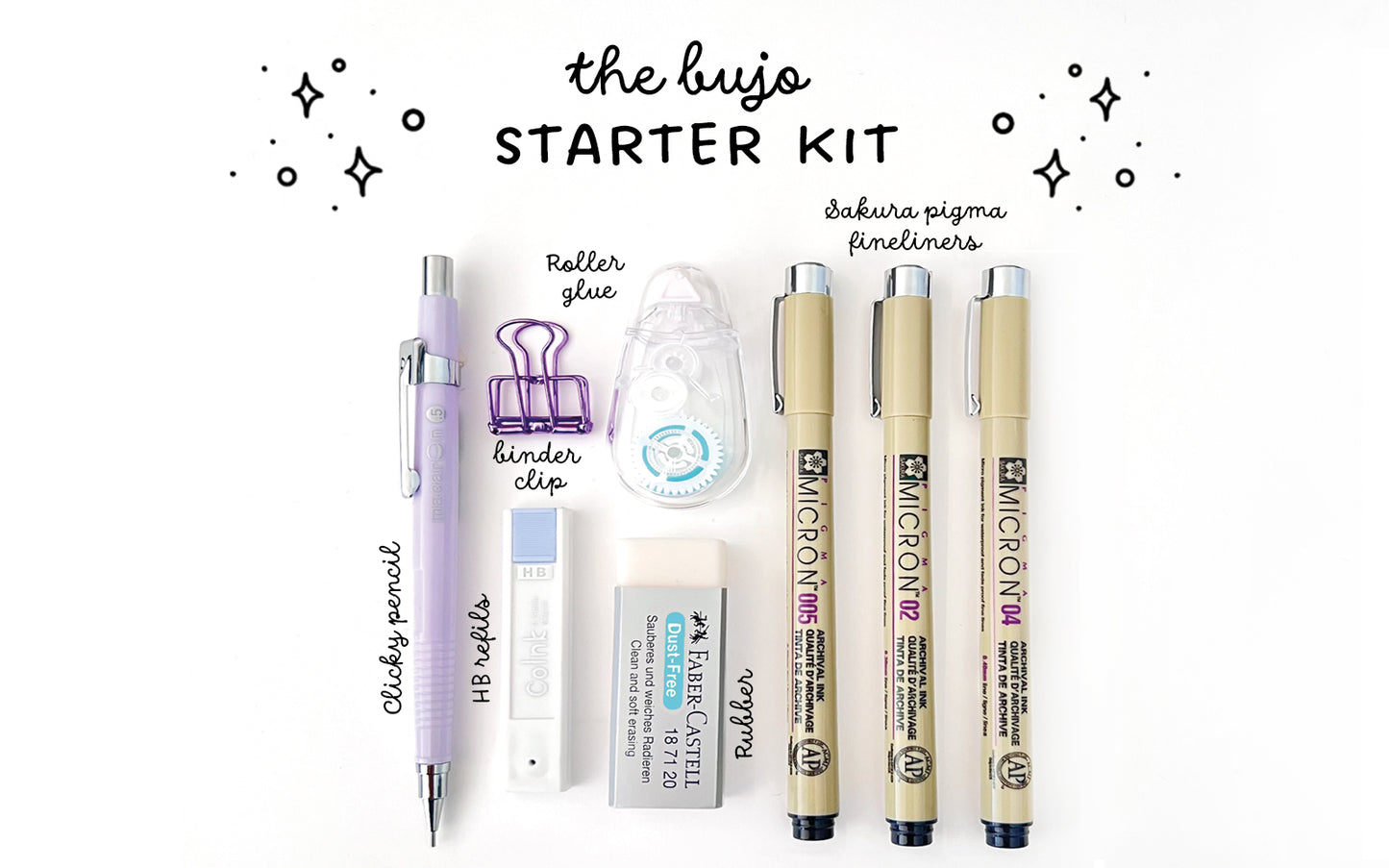 The bullet journal starter kit
Bullet journaling essentially is making your daily routine pretty!
and you don't have to be an amazing artist to start and to enjoy it :-)
I've created a starter kit for you, which is just that, all you need to get yourself going.
In the beginning you don't need expensive pens (Tombow I'm looking at you!) but having the right materials to start is important, no one wants to be inspired then get frustrated because you've not got the right pens....
So what's in the kit?
Firstly fineliners - I have tried a lot of different pens (like a lot) and most of them have been fine, but some are scratchy and some take ages to dry but….
I have found that Micron pens have worked out the best for me, and they are reasonably priced! (hurrah!) 
I particularly like to use the 005 for details, it gives a really crisp line without being scratchy and without looking grey.
The next one I use is the 02. This is the pen I draw most of my spreads in. I like the thickness, its subtle without being to bold.
Lastly I use the 04 for bolder lines, like the outside of boxes and making division lines.
I have included all these in this starter kit - 3 Micron pens 005, 02 and 04 - these should cover everything you would need to start your bujo diary.
The next very important item is a mechanical pencil. I loooove a 'clicky' pen :-)
I love that I dont have to faff with sharpener, and I like the accuracy of a mechanical pencil, its great for little details. I think a 'clicky pencil' is absolutely essential for your bujo speeds so I have included one in the starter kit. - plus refils!
A rubber - this goes without saying right? This one is great, doesn't smudge and is lovely to use. 
Roller glue....say what? YES glue that just rolls on like those White out ones. So easy to use, I love it so much.
You can use a regular glue stick. Sure, but it tends to make the pages a little bumpy because they are water based. With a roller glue its like a perfectly thin line of double sided tape without the faff.
You can just use a tiny bit or a long line to stick your inspration in, maybe stick down some photos etc and it doesn't affect the quality of the page. These can be tricky to come across unless you go looking for it so I've done the hard bit for you!
Bujo clip - totally not necessary but I love these to hold you pages flat when your drawing and clearly as a place saver, so included as an essential ;-)
All these goodies are available as a starter pack so you can grab everything in one place and just get started!
Is there something I'm missing? Have you got a 'must have' - Let me know what you think!